Introduction
Table of Contents
---
1. What is this tutorial about?
This tutorial explains how to install and use Git and TortoiseGit, and how to use BitBucket to store source code 'off-site'.
This tutorial is written with a particular audience in mind: my fellow, aspiring developers who have not used Git before or would like to revise in it, and whom I'll be working with on a school project. Since the code used in said project should not be shared with anyone (that isn't in the team), and even though I managed to have my code openly lying around on the Internet whilst I did my past two programming assignments, I'd rather not push (Hah! Pun!) my luck. Anyway, since GitHub doesn't provide any private repos for free nowadays, I'll be showing how to use BitBucket who still do. :)
The only 'downfall' with BitBucket's private repos is that only five developers can work on the same project [12]. But I have a feeling we won't go over the limit. Hopefully.
I'm also assuming these people use Windows when it comes to installing Git and TortoiseGit. But even if you aren't using Windows, it's okay; we won't be using TortoiseGit much. It's time to remember how to use the command-line interface, Bash, which will come with the Git installation if you haven't gotten it on your system.
2. What's with the blue or bold words?
If a word's in blue it means I'm going to or have explained what it is. If it's bold, uh, I'm just trying to wake you up from the monotony of plain text. :)
3. What the heck is TortoiseGit?
It's a user interface; in short, it lets you click on buttons and commands and lets you see things via text, and windows.
It's also only available on Windows systems. Don't worry though, it's the only tool I'm going to mention here that's strictly for Windows. And you can survive without it.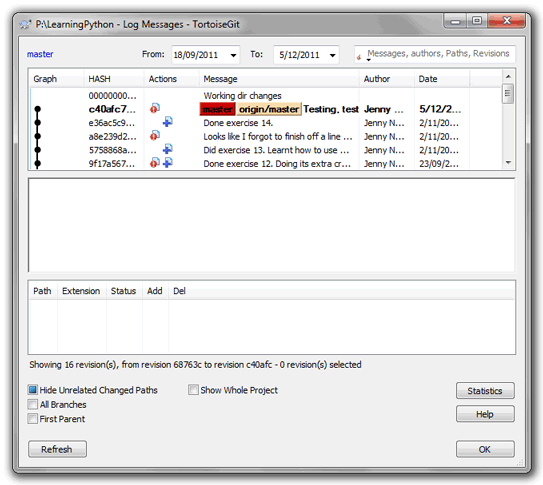 Really nice to look at when you're lacking sleep and cannot survive walls of text, I guess.
4. What the heck is Bash?
As mentioned above, it's a command-line interface (CLI). In short, it lets you type commands and lets you choose used commands via log history and lets you see text, text and more text.
It's also more robust than TortoiseGit. ...Huh, maybe their names are too telling.
Do not underestimate this minimalist method. It involves less clicking. Especially when you're using a mousepad.
5. What the heck is Git?
No, we are not referencing Ron Weasley and his fondness of the word here.
Maybe [1].
Git is a version control system (VCS). Which means you can:
share your code with your collaborators with just a few commands, instead of having to email them every time

revert

back to your last working code with ease
back up your code with each

commit

(and comment of what you did since the last back up) instead of each archive with tools such as Winzip, Winrar, and 7-zip (and no quickly accessible comments at all!)
Git is a distributed VCS. You might have heard of another VCS called Subversion, which is a centralised VCS. Some of the advantages of a distributed VCS are listed here. You can:
work offline when

committing

your code (imagine having to archive/backup your code only when you have Internet connection!)

merge

with your collaborators' code, which doesn't involve a lot of Ctrl+C/Ctrl+P at your end
add a really tricky, new feature on top of working code. And if it doesn't work out you can easily kill the code related to the tricky feature, leaving the working code unscathed
6. Wait wait wait. What the heck is a repo?
Repo is short for repository.
And, unlike some computer jargon *coughtoastcough*, it is exactly what it means: 'a place, room, or container where something is deposited or stored' [10].
To make a repo, you'll need to use a Git command. More on that later.
So are you ready to version and share your repo with others easily? Then git ready [2] to install! Hehe.
References